Well the season for cyclocross is well underway with lots of well organised races around the country for a great day out and take part in to have fun. A few years ago we would have packed up our race bikes after the triathlon season and gone on our mountain bikes for  Autumn Winter bike riding days out. Then we discovered cyclocross ! Having checked out the whole calender of events across the UK , all listed on the British Cycling website, we packed our lunch, flasks of coffee and hot chocolate for kids then drove to watch the drama and fun unfold at the National Trophy Series race in Bradford.
https://www.britishcycling.org.uk/events?&zuv_bc_discipline_filter_id=4
We weren't quite prepared for the amount of mud at the time, but it was fun spectating to see who could stay on the bike !
So two season later and the 2013 season of cyclocross racing is as exciting as ever ( even without as much mud ).
As well as being inspired by watching how good the athletes at the top of the league are, and amazed at their strength and energy to compete on some tough courses , the races all provide and welcome entries for all ages as a bit of fun.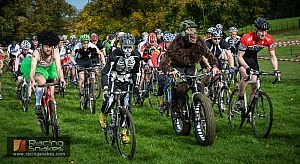 Rapha Supercross series is a perfect example of the type of event on offer, although there are many local cycle clubs who organise similar races for kids to take part., whether riding or spectating.
There are still plenty of races on offer to enter to keep you fit and active over the Winter months.
The best tip I could give if you decide to enter the world of cyclo cross for the first time, prepare for the mud, wet and possible cold weather. Dont wear white ! Have fun !